Back to top
Replying to a product request is super easy, just follow the steps below:
After a buyer posts a request, Mercamadrid Online will conduct a thorough background search and contact the suppliers that can potentially provide the requested product. You will, therefore, receive a notification if you have a product that matches the request. To respond, click on the "REPLY" button.
Alternatively, if you want to see the whole list of active requests, go to "REQUESTS" > "Active Requests".
You then have 2 options to reply:
Respond with a product from your catalog by selecting a product from the catalog list and clicking on "Reply".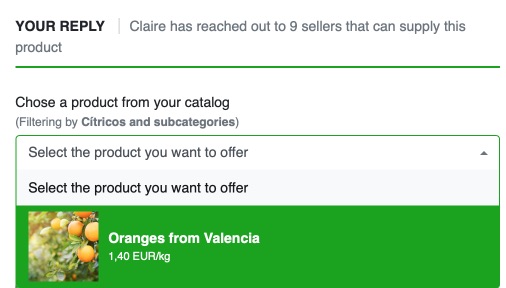 Create a new product based on the specific request by clicking on the "Create a new product based on this request", that will provide you with a product creation form auto-filled with the specifications of the request, that you can edit in full. Once you have created this new product, go to the request and reply by selecting it from your catalog list (shown in first option).

Your reply will be sent to the buyer who will then contact you to start a direct purchase (if they agree with the conditions imposed) or a negotiation (if they want to change any of the conditions imposed).
Requests will remain active for 7 working days, after which they will become inactive and will be automatically erased.